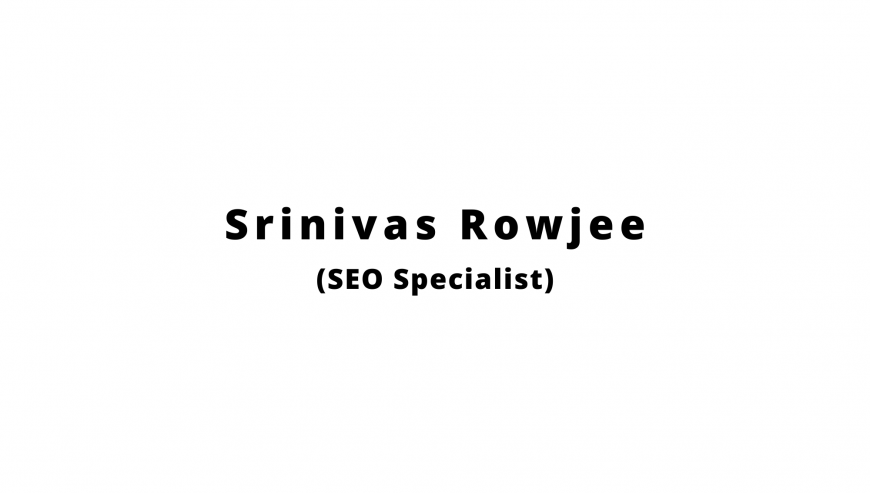 | | |
| --- | --- |
| Service Type: | SEO consulting and planning |
| Service Include: | On-page SEO, Off-page SEO, Search Engine Marketing, Lead Generation. |
|  Budget: | Medium-High |
| Client Type:  | SME |
| Work Type: | Retainer and Project basis |
Service Description-
He is proficient in providing Digital marketing services for brands in the following industries:
Search Engine Optimisation: SEO is a practice of increasing the quality and quality of website traffic. There are two major aspects of- On-site SEO and Off- site SEO. 

Search Engine Marketing: SEM leverages the power of search engines to reach the targeted audience at the right time and place. 

Lead Generation: Lead generation is the process of converting the prospects into serious customers. 
Profile Description-
Srinivas Rowjee is a Bangalore based digital marketing specialist and a consultant with over 11 years of experience across multiple fields of digital marketing. He is qualified to successfully handle the B2C and B2B marketing campaigns.
Srinivas is one of the sought after Digital marketing professionals. He is also a co-founder of  Sportskeeda.com which has 10MM monthly unique visitors. He has worked with many clients. To check his detailed work experience, click on his Linkedin profile. 
His forte includes online marketing, social media marketing, growth hacking, consulting, and lead generation. 
In case you are looking for an online marketing specialist and growth hacker, he can be the best choice for you. 
You can rely on Srinivas for handling your complex online marketing campaigns at all budgets according to your business needs. 
Category :

Performance Marketing
search engine marketing
search engine optimization
lead generation
growth hacking
social media marketing